May Owen
From her work on Staged, indeed her having worked at all, one might assume that Lucy Eaton was immune to the pandemic's effects on the creative industry. But speaking to her further suggests otherwise.
Aside from Staged, how has the pandemic affected your work?
"I've definitely felt the losses. The co-founder of my theatre company GoPeople has left to get a nursing masters. And I get it. He's always talked about wanting to be both actor and doctor. But they're jobs where you really have to commit your time and self to it. So I totally understand the feeling of wanting to course correct now that performing isn't a realistic choice"
And you? Do you feel the need to course correct?
"I'm very aware of my privilege. I'm in a place financially, where I'm effectively able to hibernate, and press pause on my normal creative life"
Define normal? What have you been doing in the meantime?
"I've had to adapt a lot. With Revels in Hand, I've pushed a 'deliveroo theatre' of sorts. Instead of a big production, we've scaled it down so that we come and deliver soliloquies at your door"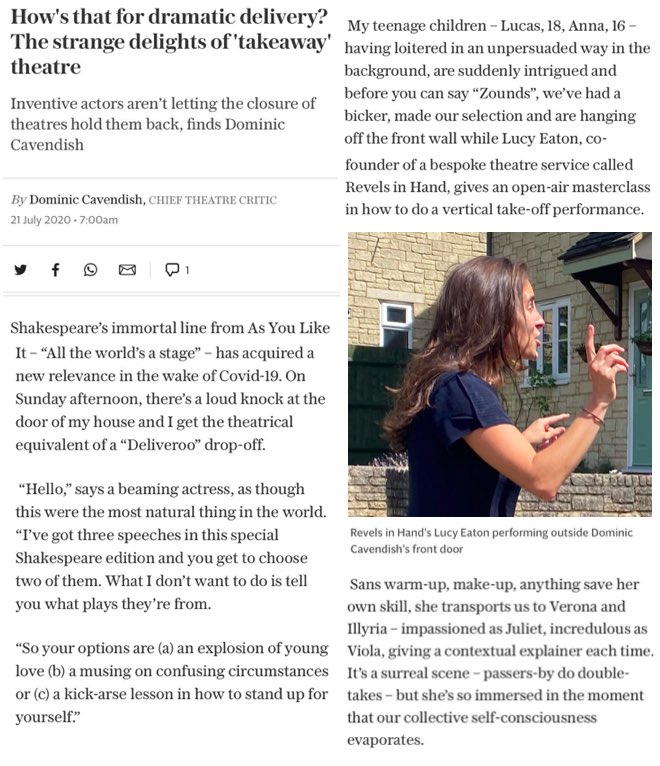 I see you got a mention from Tatler about that!
"The piece from Tatler was amazing, yes, I was so thrilled about it. But the press is very good at giving a certain illusion. We only got a handful of responses despite the big effort we all made to launch it. I think what people are really missing is the activity of theatre, so we're going to have to hold on for that"
What do you think the creative industry is going to look like, when things are 'normal' again?
"The creative industry is feeling very abandoned at the moment. Theatre in particular feels the effects a little more I think. When we come back, it's going to be a very stunted version. Firstly since theatres aren't the likely recipient of donations anymore – which is essentially what keeps them running. Ticket sales only cover a fraction of the cost of the buildings' upkeep"
"But also, we've also got to make sure that we don't end up with an even whiter, more privileged industry than before. Actors like myself have been so lucky to sit and wait for our return, but there are people who just can't afford to wait around"
What's next for you?
"I'm working on my second podcast series, Hear Me Out, where I'll be talking to theatre royalty this time. They've all got an Olivier, or a nomination at least! I know just about everyone is doing a podcast nowadays, but I've found that it's always been essential for my mental state that I'm making something"
3 things you'd tell your university self?
"There will be more 'best years' of your life after university
"Turning 30 will feel very good. You'll know yourself so well by then"
"Redefine what your old version of success is. That's not so say you won't be successful, just change your perspective"